=================================

Listening:
Tainaka Sachi - Saikou no Kataomoi
=================================
Only the fifth time blogging since Studio Project started and I feel sick of looking at the word "doom" in my title already.
Yesterday, my peg bar was very good to me. I did leave it in school, but my friends found it and dropped by to pass it me. Mweehee. And I let them have some of the brownie cake.
Today, my Photoshop was particularly evil. It was lagging the entire time. Well it could be due to the fact that I was working on two ultra-sized 300dpi documents at the same. Even now as I type here, I am waiting for the "paint bucket" to take it's time to fill my canvas. And it has been about 5 minutes already. I should try restarting my comp.
Oh no. Now the words on the toolbar read "Adobe Photoshop (Not Responding)". Eeaarrrgghh. Thank God I saved one of the documents. The other one is simpler to do.
*goes back to work*
*is back here, waiting for gaussian blur to take effect*
I have a feeling that I seem to be going schizophrenic again. It must be stress-induced. Because when I felt giddy while drawing, I could hear my anaemia condition mocking at me. Like "Mweeheeehee who ask you never eat pills for the entire of last week and the week before, see? See now what? We told you so". It was a very annoying voice.
I am now switching thru and fro the Firefox and Photoshop windows. Because I hate waiting.
I notice my Studio Project chronicles mostly consists of evidences of my stupidity. I believe it must have been for future amusement.
*is now rotting and stoning due to lack of noteworthy events to mention and Photoshop lagging while I drag a layer*
*buries head in pillow* Photoshop is still lagging. Oh wait, the dreaded "Adobe Photoshop (Not Responding)" have reappeared once more. Ooh yes! The "(Not Responding)" disappeared already! Now it is back to just lagging only. Now it's "Not Responding" again. I was using the the "Free Transform" tool.
Okay, 15 minutes already. It hanged once more. I'll do it faster the next time round. But I'm getting very sleepy already. Hadn't slept the entire night na. And I'm hungry too.
*back to work*
*yawns~*
Am finally done!! But it looks like.... very bad. I don't know what's wrong with it. Eeaarrrgghh why is it so... n00b-ish-looking? And lame.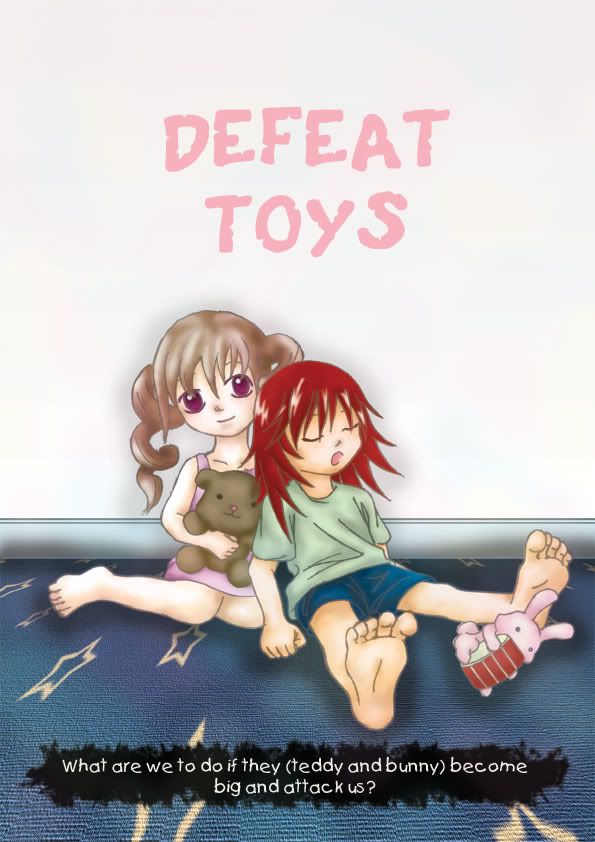 (The usual... click the image to enlarge.)
This is the supposed poster for my Studio Project 3 by the way. See
here
for storyboards.
I must be too sleepy to operate functionally. I better come out with something better when I wake up.
And haha, I survived another record 24 hours without sleep!! And Photoshop also hanged on me a record of 3 times in two hours.
I had better go soon before my grandmother starts complaining that I am a deity. (I think she's biased. When I don't eat or sleep and do my work, she calls me a deity. But when I eat a lot and sleep a lot, she never calls me a pig.)
Studio Project 3 Progress
Storyboard - 15% / 15%
Layouts - 7% / 15%
Animation - 1% / 40%
Packaging - 20% / 20%
Portfolio - 7% / 10%
TOTAL - 50% / 100